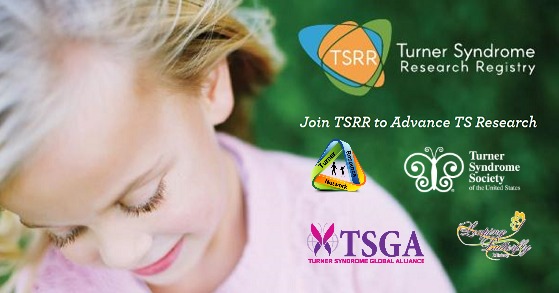 Info About the TSRR Registry
The Turner Syndrome Research Registry (TSRR) is dedicated to Turner syndrome research. The TSRR is a private and secure way to collect TS related health care information from participants and allows TS researchers to connect with you or information about you. The Registry system built on the PEER (People Engaging Everyone Responsibly) platform created by Genetic Alliance. It only takes the participants 15 minutes to register and complete the initial survey.

Info About TSGA
Turner Syndrome Global Alliance (TSGA) was incorporated in May 2014 and granted its 501c3 nonprofit status in September 2014. They are further classified as a 509(a)(2) Public Charity.
TSGA is based out of Overland Park, Kansas, and seeks to have a global impact through their work.

TSGA was founded by parents of girls and young women with Turner syndrome(TS). This organization 
aims to have a direct impact on the lives of girls, women, and families living with TS by working to include TS in the national conversation on genetic research.

TSGA is the voice for a patient and parent perspective as the organization seeks collaboration with scientists, researchers, and doctors to ensure that TS research and have meaningful outcomes.