by Emily Markowski, blog contributor for Leaping Butterfly Ministry
Our journey to the 5th Annual Seeds of Faith Celebration started back
in August 2017.
My husband Vinnie and I were contacted by Kyle and Debbie via Facetime
and they shared their desire to move LBM to the next level by
expanding efforts to serve the TS community through adoption funding.
They knew our struggle with infertility and our desires to adopt. As
the conversation continued, they asked if we would like to be the
first recipients of adoption funding.
Through tears, we said yes. This news was truly an answer to our prayers.
In November, Jim Monroe came to Fort Wayne to video tape us, allowing
us to tell our story at the Seeds of Faith Celebration. Things began
to become very real.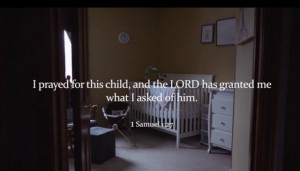 The minute we got to the airport Vinnie and I were excited and a
little nervous to see how God would work at the Celebration.
We landed in Houston and met up with Mama Bee aka Debbie Browne. With
her warm welcome, our anxiety started to calm. It was so nice being
able to catch up with her and meet her friend Paula who had been
working hard with the Seeds of Faith Celebration committee. We had the
privilege of staying with Paula and her husband Doug while we were in
town.
Thursday morning on February 22, Vinnie and I went with Debbie to the
Texas Children's Hospital in The Woodlands to hear Dr. Silberbach
speak at a Lunch and Learn session with local doctors.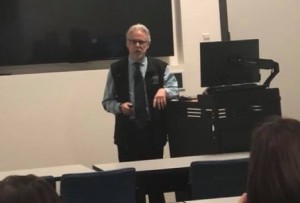 Dr. Silberbach, who is a well known Cardiologist, is leading the
charge in research and awareness of Turner syndrome in the medical
field.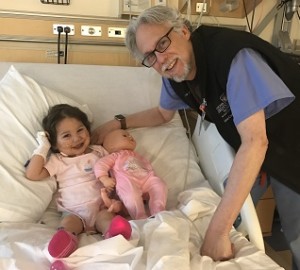 Being able to hear and witness Dr. Silberbach speak and share
information to other cardiologists about the heart issues that are
found in TS women and the importance of research made my heart smile.
TS women now have a chance to be heard and understood in the medical community.
The best part of the visit to Texas Children's Hospital was seeing the
echocardiogram room that LBM helped sponsor. The room was so calming
with the butterfly mural. I remember as a little girl having to have an
echocardiogram and the rooms always felt scary and cold.
Seeing the echocardiogram room made my heart sing "Hallelujah". It's
such a beautiful calming room for little ones who need to get an
echocardiogram done.
Before we knew it, the time for the Seeds of Faith Celebration had
come. Vinnie and I nervously got ready and then we rode with Kyle and
Nicole to the Celebration.
When we arrived, the venue looked absolutely stunning. Our anxiety was
calmed a little when we started seeing and talking to my fellow TS
sisters who attended the Celebration.
After dinner, we heard Dr. Silberbach speak again. Then, it was time
for our story to be presented. Vinnie and I nervously held hands while
Kyle introduced our story and explained how and why LBM were expanding
their efforts to fund adoptions for TS couples.
Our video was then shown. Our hearts were both pounding as we were
called to the stage.
State Representative Mark Keough came up to the stage to start the bidding, trying to raise adoption funds for Vinnie and I.
One by one, people started donating money. Vinnie and I were bawling
seeing the generosity of their love. Within a few minutes, the goal
was reached.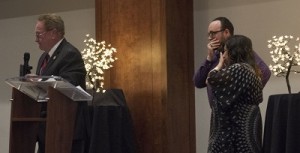 Then, out of no where a woman stood up from the crowd and said, "I
want to cover all of Emily and Vinnie's adoption costs so that LBM can
use the funds that were just raised to help another couple affected by
TS and give them the funds for adoption."
Vinnie and I were absolutely stunned. By sharing our story, LBM was
not only able to raise money for our adoption but also raised the
money for another couple to adopt. There are no words other than GOD
IS SO GOOD.
Vinnie and I are still trying to wrap our heads around the love and
generosity that has been given to us.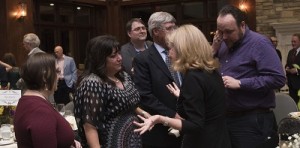 Our lives will forever be changed.
The next step in our adoption journey is meeting with our adoption
agency. We'll be assigned a caseworker and complete our home study.
We plan to keep everyone informed with this process as things develop.
We are forever grateful. Because of this huge gift, we are going to be
able to build our family through adoption.
---
Leaping Butterfly Ministry relies on donations to change lives, to create awareness of Turner syndrome, contribute funds for research, and support for those touched by TS. Click here to see how you can help.