From Ann VanGelder…
At 13, I was diagnosed with Turner syndrome.
Looking back now, the only thing that comes to mind is how evident God's grace has been in my life.
I was angry for a long time. I avoided anything to do with my TS, except for my yearly endocrinologist visits.
I did not want to be different and hated the fact that I was.
At 25, I began to research and learn more about TS.
God showed me what a miracle I am was. I began to accept the way He created me.
In 2009, I attended the TSSUS conference in Portland, Oregon and met for the first-time women like me.
I didn't feel so different anymore.
Today, I have a nearby group of friends who connect on a regular basis.
At the conference, a friend encouraged me to get a free echocardiogram by Dr. Silberbach.
Despite my protest, God placed me there because he discovered a condition that needed serious attention.
When I returned home, God placed me with a wonderful surgeon who performed open-heart surgery, but then realized I would need an additional surgery. I experienced no complications.
Now at 34, I still have chronic ear infections, which have caused moderate hearing loss.
I continue to work with insulin resistance, fatty liver disease, and hypothyroidism.
God's grace and provision have been evident through it all as He has provided for me in paying high insurance deductibles and giving me the energy needed throughout the day.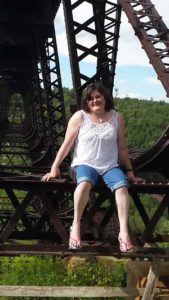 The Lord also connected me with Leaping Butterfly Ministry through one of my TS sisters.
I was blessed to receive a hearing aid scholarship. It has been life changing!
2 Corinthians 12:9 says "My grace is sufficient for you."
As I reflect on everything I've been through with my TS, I can see how true that is. God knew what I would have to deal with and gave me exactly what I needed to be able to make it through life – His grace.