by Cynthia Claxton, blog contributor for Leaping Butterfly Ministry
"Where God guides, He provides." Isaiah 58:11
Because of generous donations from Leaping Butterfly Ministry supporters, Heather Casteel is hearing clearly for the first time in her life.
When she was three years old, she was watching a cartoon and her mom stood behind her and motioned like a scene from Mr. Holland Opus. Her mom offered her ice cream and she didn't move. What 3-year-old wouldn't jump up and move fast to get to the ice cream? At that point, her mom knew that something was really wrong with Heather's hearing.
Struggling to hear most of her life, Heather never had decent hearing. She could only understand you if she could read your lips. She never understood if someone was talking to her or someone else. She said, "Can you repeat that?" a billion times, over and over again.
It became worse over time. At 19, she saw an audiologist to learn how bad it really was.
To transition, she learned ASL and started hanging out with the deaf community, believing that she would never be able to afford hearing aids.
"I never had the money for hearing aids," said Heather. "After learning about the LBM application, I decided to take a shot in the dark and apply. I was so excited when I learned that my application was accepted."
Heather was diagnosed with Turner syndrome at 18. She didn't ask any questions about the diagnosis until she was in her late 20s. "I felt like I was going to be tested like a guinea pig if I got involved in a research study." Eventually, Heather did get involved in a research study and learned what her diagnosis really meant.
Living in Georgia her whole life, Heather has moved around the state and now resides with her husband Charles in Locust Grove, which is close to Atlanta. In April, she will have been married to Charles for three years. They currently live with Charles' mother.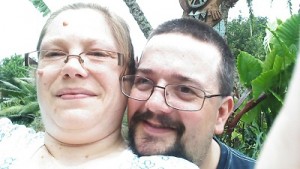 Her mom lives in Macon and one of her sisters lives in Athens and another sister lives in Savannah. Another brother sister and brother (her Dad's kids) live in Missouri. Heather is the oldest in her family.
"Honestly, it's been a pretty good adjustment with the new hearing aids," said Heather. "These days I play a new game each day, asking others constantly … What's that noise? It's such a fun game; I hear lots of giggles and I'm excited to be hearing all these new sounds."
She had Christmas dinner at her uncle's grandfather's house and definitely experienced new sounds there. "Suddenly, I think my phone is ringing. But, I check it and it's not my phone. Then, I hear the ring again. I look at my phone again. Nope, not my phone."
Giggling, my 80-year-old great grandmother tells me, "Honey, that's the grandfather clock", pointing to the standing clock. "We all laughed together."
Heather is experiencing so many new sounds, hearing …
… birds for the first time
… furnace noise
… the washing machine – "They make noise!"
… her dog playing in the crunchy leaves
… traffic on the highway. "Traffic freaks me out – it's so loud! I haven't passed a construction site and, frankly, I'm not sure I want to!"
… shuffled paper – "It's so loud!!
… my husband hitting the buttons on his video game controller. "That's an annoying repetitive sound!"
Heather's husband loves her new ears! He no longer has to keep repeating himself. "He laughs as I discover new sounds, like I'm a toddler experiencing the world for the first time," said Heather. "If I don't have them on, he quickly encourages me to put on my new ears so he can see my eyes light up again with excitement as I hear each new sound."
Now in her second year teaching in a regular Kindergarten class, Heather has been a teacher's aid (or paraprofessional) for about 17 years. She used work in special education before teaching regular kindergarten.
Heather attended Western Governors University online and then transferred to Mercer University where she is currently studying to get a Bachelor of Education degree.
At work, Heather would have her head down at her desk during class and another teacher would try to get her attention at the door (which was about 30 feet away) … waving their hands and calling her name. After she got the hearing aids, the other teachers were shocked when they came to the door and she would immediately respond. They would all say, "Whew, I didn't have to stand here and struggle to get your attention. I love your new ears!"
The kids are also learning about my new ears. I have to remind them that they are really loud and that they need to quiet down.
One boy asked me, "You are talking so soft now. Why?" Heather realized that she had been talking so loud to the kids without the hearing aids.
"I stopped class and pulled back my hair and showed the five-year-old kindergarteners my new ears," said Heather. "We stopped class to learn about my new ears."
Heather has a long list of things she wants to experience with her new ears, like…
… returning to Disney where she went on her honeymoon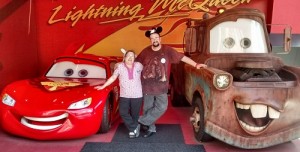 … sitting in a room blindfolded with different music instruments being played and letting her ask "What is that?" for every sound. "I'm thinking about asking a music teacher at work to try this experience with me. She teaches the kids about instruments with the story of Peter and The Wolf, with each character having a different musical sound. I want the teacher to stop playing and answer my question with each character!"
… and the list goes on of what she wants to hear!
"Thank you to everyone involved with Leaping Butterfly Ministry who made donations for hearing aids  … my new ears have made my life barrier free," said Heather.
As she moves into 2018, Heather looks forward to more interactions with people and hopes she remains true to herself as her world evolves with her new ears.
One thing she is looking forward to … seeing her mom for the first time with her new ears. "I can't wait to hear what my mommy sounds like!"
Congratulations Heather!
---
Leaping Butterfly Ministry relies on donations to change lives, to create awareness of Turner syndrome, contribute funds for research, and support for those touched by TS. Click here to see how you can help.