Written by Cynthia Claxton, blog contributor for Leaping Butterfly Ministry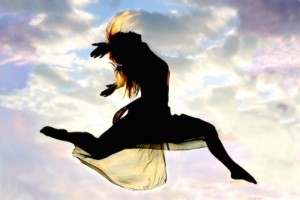 Again, I'm leaping in faith.
"Never will I leave you. Never will I forsake you." Hebrews 13:5
I'm holding on to the promise of this verse every single day.
Even though my family has not been directly impacted by Turner Syndrome, I know what it means to have a family member diagnosed with a life-threatening and life-altering health issue.
Since my son's diagnosis, my world has changed. I no longer work in corporate America. I refuse to let an employer dictate how much time I spend with my son each day … so, I will not work 90-hour work weeks sitting at a corporate desk.
This new direction / decision has left me with a daily struggle … how much time will I get to spend with my loved one? … How do I maximize the time I spend with my family … when that time is running out every second of every day.
The questions remain … Will I be able to pay my bills each month working on a contract basis?
Will I find enough virtual work to support myself during this transition?
I've chosen a new work approach … letting God control my client base as a self-employed strategic marketing consultant and ghostwriter.
I started this journey at the first of this year. Has it been smooth sailing? Absolutely not.
When I'm on the last week of the month and have a bill shouting for attention, I look to the skies and ask, "God, do you see this bill? Do you see when it's due? How do you plan to take care of this?"
Of course, the answer does not come that next day or the next. The answer typically comes on the exact day that the bill is due.
Thus, I call this work / bill paying strategy "loosey, goosey".
I don't know why I let my emotions take over, freak out and get all stressed out .. towards the end of the month. God ALWAYS provides.
I know many TS sisters are also dealing with the financial struggles of having a medical condition and having to keep working to support yourself.
God will provide what you need … not what you want. We just have to ask.
As part of my new work/family time balance commitment, I'm working very hard at listening to God's direction.
Hearing God's call, I recently joined the Leaping Butterfly Ministry team to use my talents for God's glory as the Social Media Director.
God has big plans for this organization and I'm very excited about helping TS sisters and their families.
There's tons to be done on the social front. Stay tuned …
Every day, God moves all of us to take a leap of faith. Ready to leap with me?
__________________________________________________________
Leaping Butterfly Ministry relies on donations to change lives, to create awareness of Turner syndrome, contribute funds for research, and support for those touched by TS. Click here to see how you can help.