by Debbie Browne
 "For truly, I say to you, if you have faith like a grain of mustard seed, you will say to this mountain, 'Move from here to there,' and it will move, and nothing will be impossible for you." Matthew 17:20
In 2014, when we scheduled our first Seeds of Faith Celebration, no one knew whether or not this event would be well received by the Woodlands area community.
Our event committee, small and strong, continued to pray and reference the above scripture.
The faith of the few involved that first event has grown and expanded. It's hard to believe that we are now hosting our fifth annual Seeds of Faith Celebration.
Each year, we've prepared for this event and continued to focus on the SEEDS that we plant for the coming year.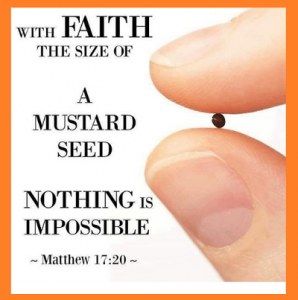 This year, our celebration will focus on:
S – Support for TS women
E – Entertainment
E – Educate
D – Diagnosis
S – Scholarships and Surprise
S – Support for TS women. Our organization supports TS females on an ongoing basis with education, spiritual growth, encouragement and compassion.
As the CEO and founder of Leaping Butterfly, Inc., the parent organization of Leaping Butterfly Ministry, I am focused on developing a weekly Bible Study webinar. Topic and start date is coming soon. Interested? Contact me via email.
I'm also writing a follow-up book to Loving a Leaping Butterfly: A True Story, that is scheduled to be released in July this year. This book will chronicle how the Leaping Butterfly Ministry has evolved and where the organization is headed, as well as encourage anyone impacted by TS.
Our chaplain, Angela Hensen Aja, is available for prayer and encouragement to anyone who has been touched by Turner syndrome.
Our TS In-reach Director, Emily Markowski, supports her fellow TS Sisters, serving as a liasion within the TS community.
E – Entertainment. At this year's event, we will enjoy a reception, the excitement of bidding at our silent auction, hear from Dr. Silberbach on why he serves the TS community, enjoy a delicious dinner from The Woodlands Country Club, and a special presentation for the TS community.
E – Educate. Not only will we educate event attendees on the physical, mental, social and emotional challenges that TS females and their families face, our organization will be increasing its efforts to educate via social media and emails within and outside the TS community.
D – Diagnosis. With this fundraising event's support, our organization will be creating a model for the First Turner Syndrome Clinic for TS women where women can receive proper tests, a personal diagnosis and a treatment plan for their health needs. The organization's goal is have a clinic grand opening by the end of 2018.
S – Scholarships and Surprise. The impact of this event will provide more hearing aids for TS girls and women who desperately need them. In 2017, Leaping Butterfly Ministry awarded nine hearing scholarships. Yet, there were seven females who were unable to receive a hearing aid scholarship and are still waiting for the gift of hearing.
Our organization has begun the preparation to launch an inaugural faith-based weekend retreat, called Chrysalis, in Trinity, Texas, the first weekend in April 2019. This weekend will include fun mixers, breakout sessions, music, inspiring keynote speakers, and much more for females impacted by TS and their parents.
A surprise announcement will also be made at this event that will further serve the TS community. Don't miss it!
As our organization continues to plant faith-based seeds and evolve its mission and the types of support provided to the TS community who has been so under served in the past, we ask for your continued prayer and support.
Together, we can make a difference!
Have you purchased your ticket to the Seeds of Faith Celebration event? If not, click here and reserve your seats today.
We look forward to seeing you, your family and friends on February 22 from 6 PM to 10 PM at the Woodlands Country Club, The Legacy Ballroom, 100 Grand Fairway.
See you there!
---
Leaping Butterfly Ministry relies on donations to change lives, to create awareness of Turner syndrome, contribute funds for research, and support for those touched by TS. Click here to see how you can help.